DANIEL'S PROGRAMS
A brand new show each and every year! No need to keep looking for different entertainers from year to year as the show is new and fresh each season. Each new show is based on the Summer Collaborative Reading Program's selected theme. Every year the show has new effects, routines, and puppets.
​
The Magic of Imagination - 2020
Your Summer Reading Program is CHANGING and we are CHANGING WITH YOU!

Due to Covid-19 restrictions, we have moved to all online programming for the 2020 Summer Reading Program.
​
​
////////////////////////////////////////////////////////////////////////////////////
Listed below are the other programs we have produced in the past.
/////////////////////////////////////////////////////////////////////////
Blastoff to Magic - 2019
​
​
​
​
​
Space Themed
Learning to never give up and Shoot for the STARS!
​
Celebrating the 50th Anniversary of the Moon Landing, Daniel teaches kids about famous astronauts that never gave up. Kids will also meet "Steve the space alien" and help him discover that everyone in the universe is different, and that is ok!
​
You might even see Mr. Daniel fly with his own rocket pack!
​
Rockin' Together - 2018
A Musical Magic Show
Learning that working together ROCKS!
​
This is a very unique show and is a mixture of magic and music. Musician Elle joins the show and plays songs from famous kids programs LIVE. But will this be OK with Magic Daniel? Can they work together? Will the show be able to go on? It looks like they may have to learn how to Rock Together!
​
You cannot get this show ANYWHERE ELSE.
​
Leggo My Magic Show! - 2017
Build a Better World
Making the world a better place is as easy as A.B.C.
​
A - Alert to others needs
B - Brave when standing up for what is right
C - Compassion for other
​
Not only does this show have an AWESOME message but is done with the worlds most famous building blocks... LEGOS!!
​
GO for the GOLD! - 2016
Olympics Theme
In this program Daniel uses his unique blend of comedy, magic, and puppets to take kids, parents, and grandparents alike on a hilarious magical adventure. Kids will learn about the Olympics and how they can "Go For The Gold" in reading, fitness, and kindness towards others. Daniel will also be joined with the kids favorite magical bunny rabbit Twinky!

Be A Hero - 2015
​
​
​
​
​
​
​
Who are Heroes
In this program Daniel will use magic and comedy to tell the kids about heroes in literature, heroes overseas, local heroes, and how to be a hero yourself. H.E.R.O. stands for... Help Everyone, Respect Others. This show not only talks about how heroes are documented in the library but also will have an anti bully/character development message about how they can be a hero in their community, school, and home.

Magic of Science - 2014
Science Based Show
What is the difference between magic and science? This program explains how magicians use science to perform their magic. Featuring "Cheese" the lab rat!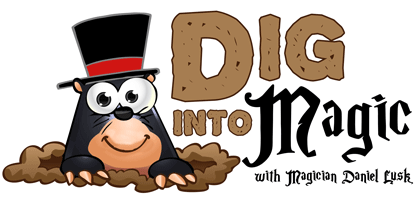 Dig into Magic - 2013
Myths under the ground
Just because it has been said many times does not make it true. Children learn what is under our feet and separate facts from myths. Featuring "Doug" the mole!

Magic, Friends, and Laughter around the World - 2011
Cultural diversity
Let's take a trip around the world! In this show Daniel does magic from different countries around the world was children learn that it does not matter where we come from or what we look like, we can all be friends. Featuring "Crackers" the DoDo Bird!

The Magic of Dreaming BIG - 2012
You can be what you want to be
There are a lot of big dreamers in history. Authors, inventors, sport figures, and even magicians. Children learn that the library is full of big dreamers but the biggest dreamer is the one in each of them. Featuring "Reggie" the HUGE library book!

/////////////////////////////////////////////////////////////////////////
Funtime Magic Show
Our interactive standard magic Show
This is our standard 45 minute interactive magic show that you can book for programs that do not need a specific theme. Twinkie the Bunny Rabbit is there to try and mess with our magician. This show usues a lot of audiance participitation is great for the whole family.

Be BIGGER than a bully
Anti-bully magic show
This program can be done at your library or in the local school system with the cooperation of the local library system. You can find out more about this program at www.antibully.org